General introduction
OneTech Asia is the leading of company for AR/VR/MR development in Ho Chi Minh City – Vietnam. OneTech Asia's vision is to become a leading technology company in Asia.
We have over 7 years' experience as an outsourcing company in the Japanese and worldwide market. We are proud of our reputation for delivering Japanese "Quality" and "Technologies" from within Vietnam.
Our strength is in AR/VR/MR application development, acquired through more than 4 years of experience and over 60 successful AR/VR/MR related project deliveries for our customers. Our goal is to provide all customers with quality products at a reasonable cost by offering tailor-made and right-sized solutions that take advantage of our technical strengths and experience.
OneTech Vietnam
OneTech Asia Joint Stock (OneTech Asia)
Add: 142 Hien Vuong, Phu Thanh, Tan Phu district – Tel: (+84)2866-529-333 – Email:
info@onetech.vn
Add: 3F, Qcoop building, 647 Ly Thuong Kiet, Ward 11, Tan Binh District, Hochiminh City
150 (including partners/partime)
Media – Offshore software development – AR/VR/MR Development – 3DCG Design – Web/App application development – Business supporting in Vietnam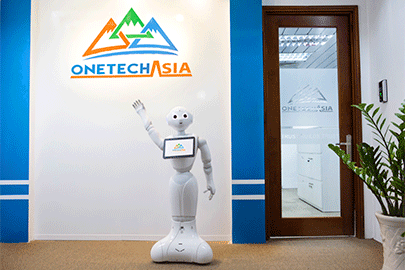 OneTech Japan
Takatsu,Kuji1-11-7-3, Kawasaki-City, Kanagawa, Japan
Ami-Hall511, 1-1-3, Shibuya, Shibuya-City, Tokyo, Japan – Tel: (+81)03-6403-0814
Media – Offshore software development – System Development – AR/VR/MR Development – MR hololens development – 3DCG Design –
System maintenance
– Vietnam business consulting